Medical Air separation equipment
Product Detail
Product Tags
1. Electric furnace steelmaking: decarbonization, oxygen combustion heating, foam slag, metallurgical control and post-order heating.
2. Wastewater treatment: aerobic aeration of activated sludge, oxygenation of pools and ozone sterilization.
3. Glass melting: Oxygen to help dissolve, cut, increase glass production, and extend the life of the furnace.
4. Pulp bleaching and papermaking: Chlorinated bleaching into oxygen-rich bleaching, providing cheap oxygen, sewage treatment.
5. Non-ferrous metal smelting: Metallurgical steel, zinc, nickel, lead, etc. need to be oxygen-rich, and the PSA method is gradually replacing the deep cold method.
6. Oxygen for petrochemicals and chemicals: Oxygen reactions in petroleum and chemical processes use oxygen rich instead of air for oxidation reactions, which can increase reaction speed and chemical product production.
7. Ore treatment: Used in gold and other production processes to increase the extraction rate of precious metals.
8. Aquaculture: Oxygen-rich aeration can increase the dissolved oxygen in the water, greatly increase the yield of fish, and can deliver oxygen for live fish and intensively raise fish.
9. Fermentation: Oxygen rich instead of air is an aerobic fermentation to provide oxygen, which can greatly improve the efficiency of drinking water.
10. Ozone: Provides oxygen to ozone generators and self-oxygenation sterilization.
Process flow brief description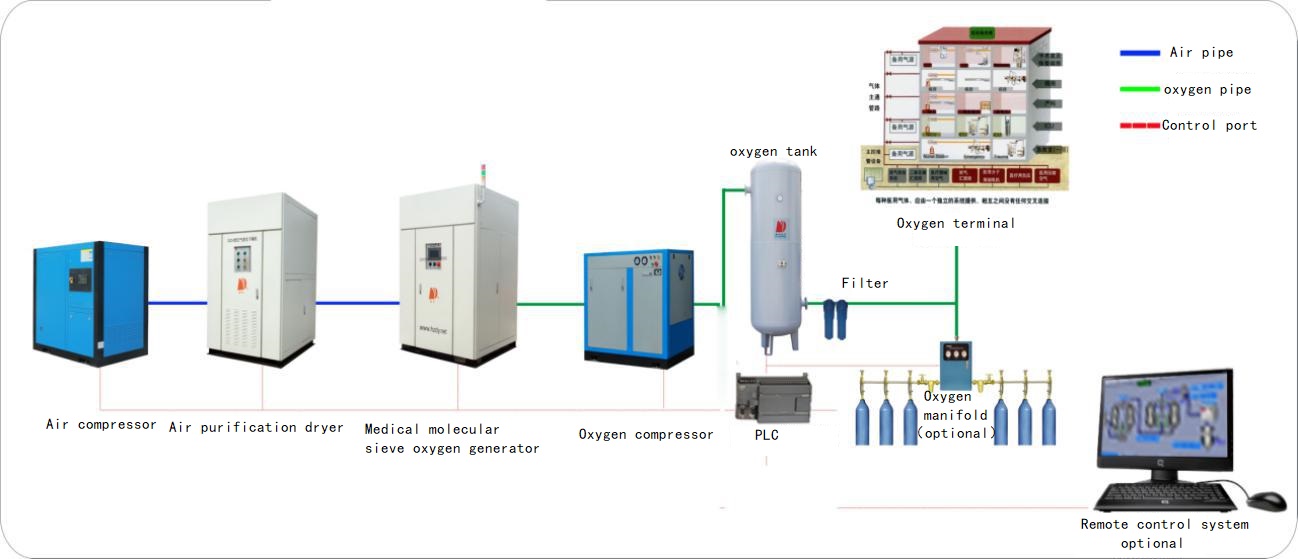 ---
---
Write your message here and send it to us