Medical molecular sieve oxygen production system
Product Detail
Product Tags
Our company is engaged in molecular sieve Pressure Swing Adsorption technology.PSA (for short) has more than 20 years history of research and development, on this basis, our company combined with oversea advanced PSA technology concept, cooperate with domestic professional research institutes closely, developed "Snd-y" series medical molecular sieve oxygen production system.
The system adopts foreign famous brand of air compressor, energy saving and efficient, which good for the oxygen system to provide continuous of compressed air. The system is equipped with the "air purification dryer" independently produced by our company, which improves the performance by 50% compared with the general cold drying machine. It not only ensures the quality of finished oxygen from the source, but also effectively extends the service life of molecular sieve
Medical oxygen generator is the core components of the system, gathered a number of advanced technology and the latest scientific research achievements, including molecular sieve compaction mechanism, oxygen regeneration system, Cellular straight row muffler..ect .It covers all aspects from the air raw material into the oxygen main machine to the output of finished oxygen to ensure the long-term stable operation of the system and ensure the output of finished oxygen to meet the requirements of various technical indicators.
In addition, our company also equipped with a number of air purification and filtration devices for the system, in the process of oxygen production, the air raw material and finished oxygen layer by layer purification, to ensure that users use healthy and safe oxygen.
1. The air as raw material, generate oxygen on-site, usage in spot, oxygen without transport and tanks
    Easy to operate. Oxygen pressure can be adjusted as required
2. Compressed air is equipped with air purification and drying treatment, clean compressed air, conducive to extend the service life of molecular sieve
3. Advanced control system, touch screen control and display, automatic operation,
   Highly intelligent, realize the joint operation of multiple units, remote monitoring and management
   The hospital will have institutionalized, scientific and modern oxygen supply management model.
PSA technology is produced oxygen at room temperature and low pressure through physical means, without the link of transportation and packaging, which greatly reduces safety risks
Key components are made of high-quality products from renowned manufacturers to ensure reliable product performance. The control system are able to run stably for a long time after strict testing.
1. Using PSA oxygen production, physical principle, with surrounding air as raw material, economic and environmental protection, low energy consumption, high efficiency, reduce the unit cost of oxygen, investment quick return.
2. The equipment structure is compact and reduces the footprint. Optimized process flow, more efficient and energy saving.
Sihope brand medical molecular sieve oxygen production system is a new type of equipment to extract oxygen from air using advanced PSA technology.It takes air as raw material, zeolite molecular sieve as adsorbent, room temperature and low pressure, the selective adsorption of oxygen and nitrogen by zeolite molecular sieve and its adsorption capacity increases with the increase of adsorption pressure, and decreases with the decrease of adsorption pressure.Under pressure, nitrogen is absorbed, oxygen is enriched, and nitrogen is desorbed under decompression conditions, while molecular sieve is regenerated, and oxygen is separated by circulation alternately.The specific working process is that the compressed air is purified by the air purification dryer and then enters the adsorption tower through the switching valve.In the adsorption tower, nitrogen is adsorbed by molecular sieve, oxygen is accumulated at the top of the adsorption tower into the oxygen storage tank, and then after odor removal, dust removal and sterilization filtration, that is, qualified medical oxygen.The whole oxygen production process is physical adsorption process, no chemical reaction, no pollution to the environment.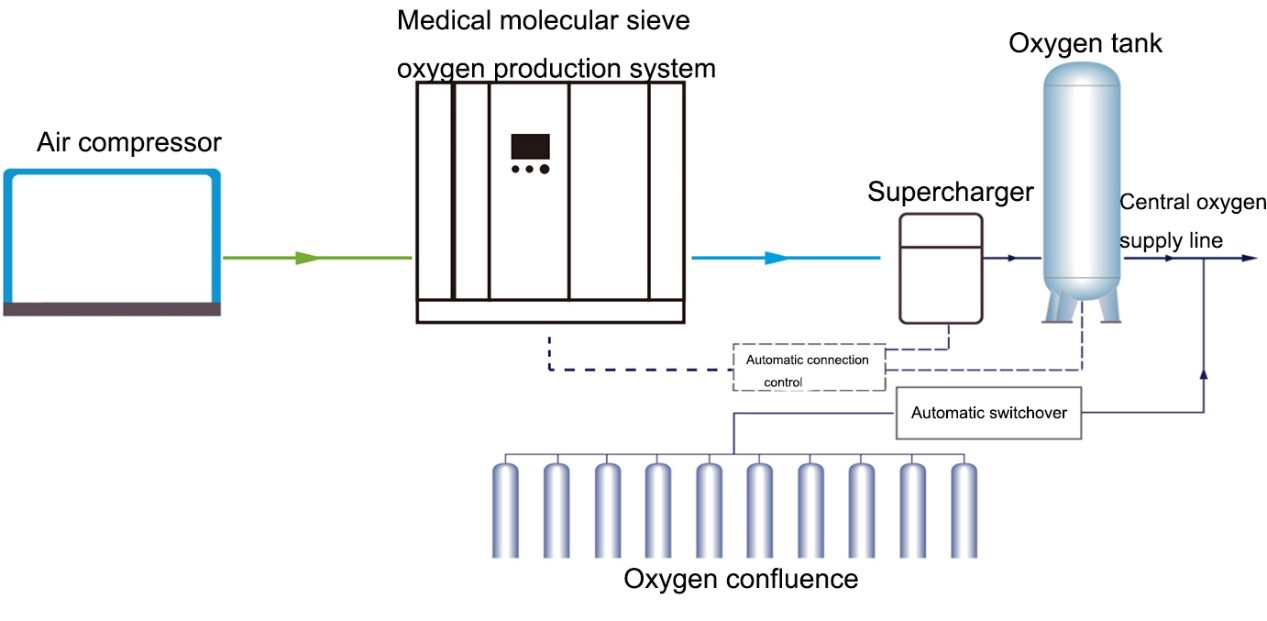 Comparison of medical molecular sieve oxygen production system, liquid oxygen and bottle oxygen
| | | | |
| --- | --- | --- | --- |
| Item | Liquid oxygen | Bottle of oxygen | medical molecular sieve oxygen production system |
| oxygen concentration | 99% | 99% | 93±3% |
| Standard | Follow GB | Follow GB | Follow GB |
| Oxygen pressure | hydraulic pressure 0.8Mpa | ultrahigh pressure 15Mpa | 0.3-1.0Mpa(Adjustable) |
| operating feature | Manual operation | Manual operation | Automatic |
| Transportation | Every 3~5 days, the liquid oxygen tank is transported to the hospital to fill the empty tank | A special truck delivers oxygen bottles every day | On-site |
| Installation environment | The indoor distance from the surrounding buildings should not be less than 25 meters | indoor | indoor |
| Safety | It's dangerous. Liquid oxygen is very cold | Dangerous. The equipment room is under high pressure | Best safety, the equipment operate in normal low pressure |
| Service life | The tank should be inspected every 2 years and replaced every 5 years | Replaced every 2-3 years | More than 10 years |
| The oxygen production cost is calculated at 1m³ | 0.9~1.25U.S.D/m³ | 3-4.5U.S.D/m³ | 0.08-0.12 U.S.D/m³ |
Selection table of medical molecular sieve oxygen system
| | | | |
| --- | --- | --- | --- |
| Model | Capacity of oxygen Nm³/h | Power of Moter | Apply of beds |
| SND-1Y | 1 | 3 | 30 |
| SND-2Y | 2 | 4 | 60 |
| SND-3Y | 3 | 5 | 100 |
| SND-5Y | 5 | 7 | 150 |
| SND-8Y | 8 | 11 | 250 |
| SND-10Y | 10 | 15 | 300 |
| SND-12Y | 12 | 18 | 360 |
| SND-15Y | 15 | 22 | 450 |
| SND-16Y | 16 | 22 | 480 |
| SND-20Y | 20 | 30 | 600 |
| SND-25Y | 25 | 37 | 750 |
| SND-26Y | 26 | 37 | 780 |
| SND-30Y | 30 | 37 | 900 |
| SND-40Y | 40 | 45 | 1200 |
| SND-50Y | 50 | 55 | 1500 |
| SND-60Y | 60 | 75 | 1800 |
---
Previous:
Integrated panel ozone generator
---
Write your message here and send it to us